2022-2023 CHOICE RESULTS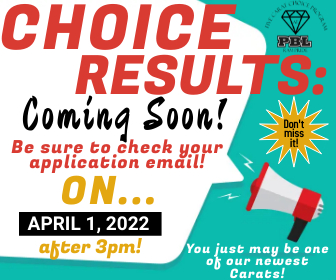 The wait is over! All those who submitted an application for the 2022-2023 school year will learn if they have received a placement in one of the academies in the district. The results will be released Friday, April 1 after 3:00 pm. The results will be sent to the email addresses shared on the submitted applications. Once the district has released the results, Choice Coordinators will follow up with a personal email to those who have been offered a seat in a program at their respective schools. Students who are blessed to receive placement in one of the Five Carat Choice Program academies need to take the following steps to SAVE THEIR SEAT for next school year:
Accept the placement in the application portal (online).
Return the contract paperwork that is emailed to them the day after the district results are released.
Complete the Google Form (found in the "congrats" email from the Choice Coordinator) acknowledging receipt of the email and the contracts.
Complete the Google Form (also found in the coordinator's email) to RSVP for Newbie Night (Choice Orientation & Class Registration).
FCCP is super excited to welcome ALL of its 2022-2023 newbies!